PERCEPTIVE SOLUTION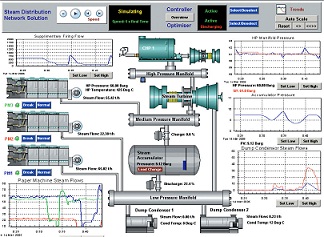 The main task of the steam network is to generate and deliver process steam for the paper machines. Operation of the industrial power plants differs markedly from that of typical condensing power plants with stable or slowly changing loads; the industrial power plants typically being exposed to large and fast load changes caused by breaks and tail-feeding of the paper machines. The dynamics of the load disturbances are often far beyond the control capability of the boilers regulating the steam delivery network. Thus different kinds of load leveling components and control loops are needed to stabilise the steam pressures in different headers during the rapid load changes in the steam network. These can be in the form of steam accumulators, let down stations and steam vents.
Perceptive Engineering's solution is to construct a robust model which describes the interactions between key stock flows, vacuums and retention chemicals, and their influence on backwater consistency and drainage. This model is used in a Model Predictive Controller to reduce wet-end and sheet variation by handling the machine interactions and dynamics. A real-time optimiser is coupled to the controller to ;maximise energy efficiency and ensure optimal use of the machine's retention chemicals.

RETURN ON INVESTMENT
The project required 16 weeks to implement. The Model Predictive Controller provides:
A reduction in top and bottom layer backwater consistency variation of 82% and 72%, respectively.
A corresponding reduction in top and bottom layer wire retention variation of 76% and 65%.
Knock-on reductions in MD weight and moisture variation of 20% and 14%.

The optimiser uses the platform of reduced variability to deliver the following primary business benefits:
A 10% reduction in steam consumption. This corresponds to a 5,200 tonnes per year reduction in CO2 emissions.
Production increases of 5% per annum through increased stability and dryer de-bottlenecking.
The benefits delivered a full return on investment within 3 months of commissioning, sustained via an ongoing support program provided by Perceptive.